Vision and Values
Dear parents and carers.
We are delighted to welcome you and your family to Arundel Court Primary Academy & Nursery and we are really looking forward to getting to know you better over the coming years.
Our vision is to:
'Make a difference. Be outstanding'
is at the heart of what we do. We feel that this is best achieved through our community values of:
being safe,
having high expectations,
being included,
encouraging independence,
showing respect
and promoting teamwork.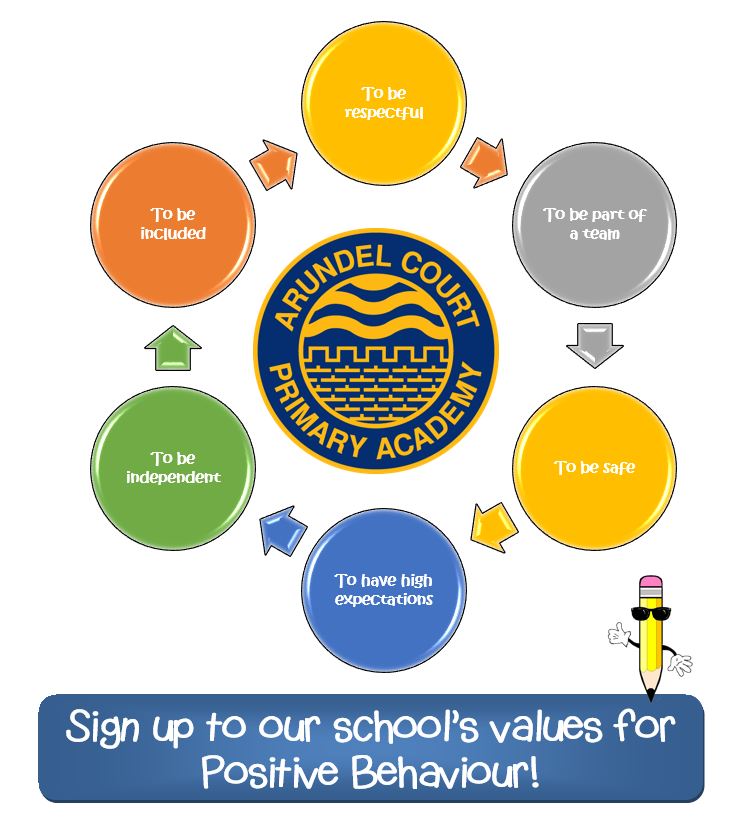 You will see very quickly how these values are embedded in the school community.
Our school has been growing in success over the last few years and standards at all levels have improved. We are very proud of the fact that Ofsted has recognised the hard work of the school and judged us to be good with many outstanding features such as: leadership & management, behaviour, curriculum, care, guidance and support with outstanding links with other partners with health, teacher training and other community providers .
Staff are also committed to working in partnership with parents and carers. We hope you and your children feel very welcome and included at Arundel Court. The office staff are always more than happy to help you. Parents are encouraged to help in school, support on school trips, actively support early bird activities in KS1 and read as often as you can with your child. Fun activities, assemblies, fundraising events and community fairs are always more successful when parents are involved and feel included.
Starting a new school can be a worrying time but please be rest assured that all the staff are fantastic and are here to help. We are committed to strong teamwork and making your child's first experience rewarding, successful, memorable, challenging and of course a very happy one.
We look forward to working with you and your child and making this a successful and happy time in their lives.
If there is anything further you wish to know please do not hesitate to get in touch.