Behaviour
Behaviour at Arundel Court has been graded as 'Outstanding' in our latest Ofsted inspections. (2015)
We want all children and adults, who work in our schools to feel happy, safe and respected. Everyone in our school community is working together to make a difference in providing the right ethos and environment for this to happen. There is a joint responsibility in supporting every child to develop a positive outlook and behaviour in and out of the school community.
We believe that everyone has the right to feel safe but have the responsibility to behave in a way that lets others feel safe and happy too. Clear rules and expectations of acceptable behaviour within the schools are slightly differentiated across both schools.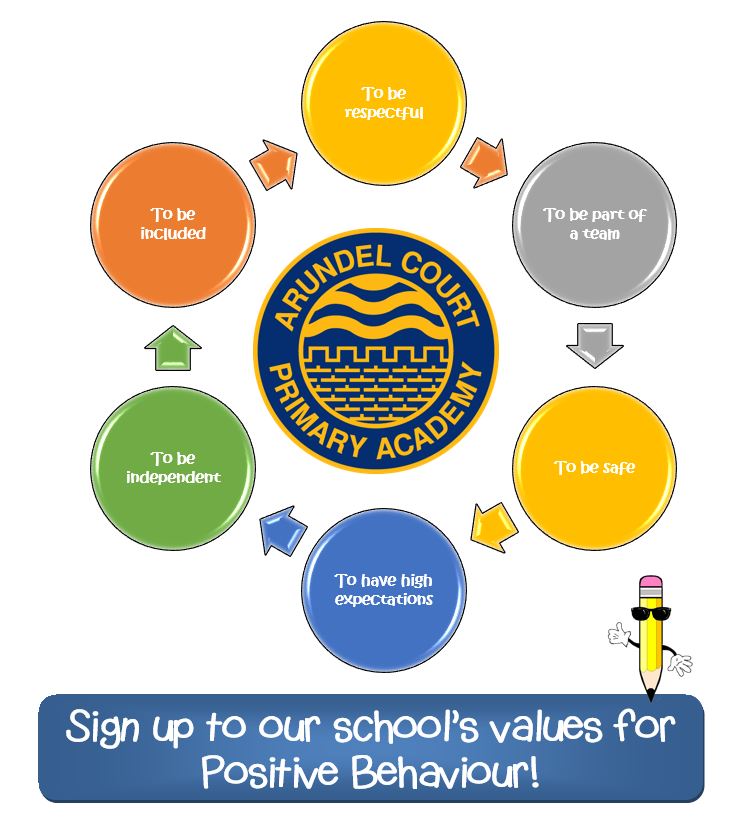 Aims
To value and appreciate one another irrespective of age, gender, creed or race and to acknowledge that everyone has a part to play within our school community.
For all children in our care to develop self-esteem, consideration, self control, gain confidence, honesty, responsibility and respect.
For all children to work within the golden rules and to always do the best.
ACHIEVING POSITIVE BEHAVIOUR
Parents:
Are models for their child's behaviour
Will support the school, advising them of any factors at home which may effect their child's behaviour
Will work with the school to promote positive behaviour and resolve any difficulties, as shown in the home school agreement.
Community:
All users of the school premises for extended activities will be given a copy of this policy.
Regular feedback will be welcomed from visitors on the ethos and general school behaviour.
School and Class Rules
We will regularly share our expectations with pupils, parents and the community.
We will have clear, consistent procedures for the whole school, encouraging positive behaviour and dealing with any problems.
School and class rules are based around the golden rules & our school values. At the start of each academic year new class expectations are decided and agreed with the children, teaching assistants and class teacher. These are clearly displayed in the classroom and signed by the pupils to show their agreement and understanding. Attention is drawn to them when a rule is broken.
Golden rules
Be gentle, be kind and helpful, listen, look after property and be honest.
Rewards
All adults support pupils, where appropriate, by encouraging them to do their best, praising their efforts and being interested in them as individuals.
Rewards should always be a way of acknowledging when children, as a group or individually, have achieved or accomplished more than expected.
Exceptional behaviour can be recorded in the Bling Book book and celebrated in assembly.
Exceptional behaviour may be rewarded with a Golden sticker from the head or deputy.
Assemblies are a good venue to celebrate exceptional behaviour.
A house point system is used from Year 2.
Wall of fame can also be used to showcase outstanding behaviour.
High quality Golden Time rewards pupils from Year R to Year 2. Children in these year groups choose from a range of special activities run by staff.
'The Arundel Court Piggy Bank' incentive is used in the juniors, children can achieve money following our school values.
Each class may use their own reward system as designed by the class teacher e.g. table points, 'jellybean' moment etc.
Happy bear system is used in all lower school classes.
Unacceptable Behaviour and consequences
If the School Rules are broken, we have established a clear system of sanctions, which are known by the children, staff and parents.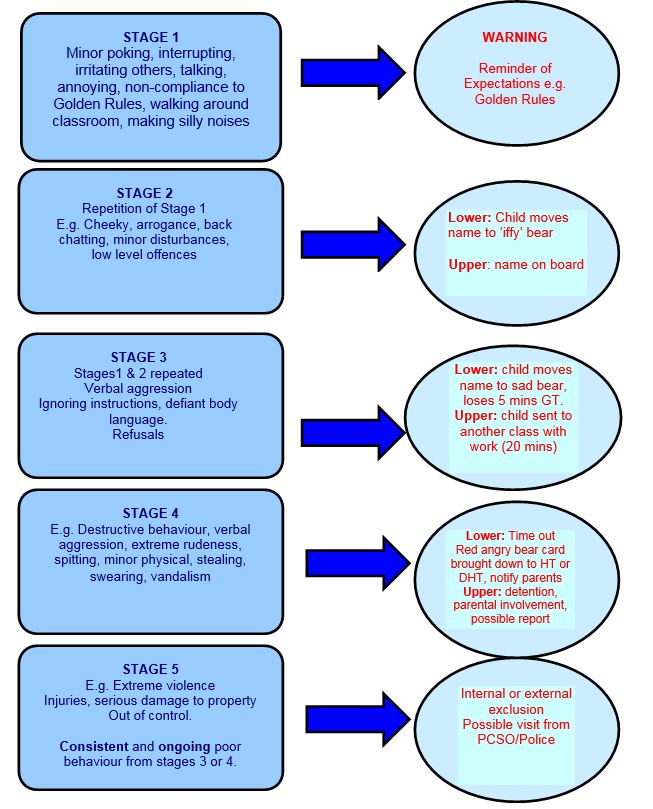 (Upper) Children should be sent to the following year groups:-
Y6 to Y5
Y5 to Y6
Y4 to Y3
Y3 to Y4
Detention may also be used for a further sanction. (see attachment on detention) Upper only
Unacceptable behaviour will be recorded on our in school tracking system.
If the behaviour of a child fails to improve, he/she will be placed on a daily report which will usually be sent home.
If a child is having regular or serious behavioural difficulties, the class teacher will involve the Deputy and/or the Headteacher. The child's parents may be consulted by a member of staff at any stage of the discipline procedure so that home and school can work together to support the child.
There are further sanctions that can be applied by the Headteacher, including temporary or permanent exclusions.
Lunchtimes
All midday assistants are encouraged to be positive with every child and praise and encourage good behaviour. All staff are expected to follow the aims of both schools to help make the lunchtime experience a happy and safe one.
House points maybe used in the upper school.
However, when unacceptable behaviour occurs, a five minute "time out" period will be used. Upper only.
A child may be excluded from school during lunchtime for persistent misbehaviour and parents will be informed.